MATLAB Project List with Abstract and Source Code - 21/22
| S.No | Project Code | MATLAB Projects | Link |
| --- | --- | --- | --- |
| 1 | TYTMAT1001 | Ant Colony Optimisation | DETAILS |
| 2 | TYTMAT1002 | Cascading H - Bridge Multilevel Inverter Fed Pmsm | DETAILS |
| 3 | TYTMAT1003 | Face Detection System | DETAILS |
| 4 | TYTMAT1004 | Extraction of Fetal ECG Signal and Determination of Fetal Heart Rate | DETAILS |
| 5 | TYTMAT1005 | Grid connected 250 kv PV system | DETAILS |
| 6 | TYTMAT1006 | Transmission and Receiverance of the Image using Li-Fi Technology | DETAILS |
| 7 | TYTMAT1007 | Modified Discontinuous PWM Strategy for Three Phase Grid Connected | DETAILS |
| 8 | TYTMAT1008 | PV system based MPPT using P&O algorithm | DETAILS |
| 9 | TYTMAT1009 | PV system based 9 level inverter | DETAILS |
| 10 | TYTMAT1010 | Solar PV Array Powered Air Cooling System by Boost Converter Fed High Performance BLDC Drive | DETAILS |
| 11 | TYTMAT1011 | Image processing for facial recognition | DETAILS |
| 12 | TYTMAT1012 | Predictive maintenance for industrial machinery | DETAILS |
| 13 | TYTMAT1013 | Automatic license plate recognition | DETAILS |
| 14 | TYTMAT1014 | Handwritten character recognition | DETAILS |
| 15 | TYTMAT1015 | Traffic sign recognition | DETAILS |
| 16 | TYTMAT1016 | Medical image analysis for diagnosis | DETAILS |
| 17 | TYTMAT1017 | Forecasting stock prices using machine learning | DETAILS |
| 18 | TYTMAT1018 | Brain-computer interface for controlling devices | DETAILS |
| 19 | TYTMAT1019 | Speech recognition and synthesis | DETAILS |
| 20 | TYTMAT1020 | Natural language processing for sentiment analysis | DETAILS |
| 21 | TYTMAT1021 | Solar panel efficiency optimization | DETAILS |
| 22 | TYTMAT1022 | Wireless sensor network for monitoring environmental conditions | DETAILS |
| 23 | TYTMAT1023 | Predictive modeling for energy demand forecasting | DETAILS |
| 24 | TYTMAT1024 | Modeling and simulation of power systems | DETAILS |
| 25 | TYTMAT1025 | Control system design for autonomous vehicles | DETAILS |
| 26 | TYTMAT1026 | Wireless communication systems simulation | DETAILS |
| 27 | TYTMAT1027 | Financial risk analysis using Monte Carlo simulation | DETAILS |
| 28 | TYTMAT1028 | Optimization of manufacturing processes | DETAILS |
| 29 | TYTMAT1029 | Predictive modeling for weather forecasting | DETAILS |
| 30 | TYTMAT1030 | Modeling and simulation of chemical processes | DETAILS |
| 31 | TYTMAT1031 | Predictive maintenance for aircraft engines | DETAILS |
| 32 | TYTMAT1032 | Modeling and simulation of electric vehicles | DETAILS |
| 33 | TYTMAT1033 | Optimization of supply chain operations | DETAILS |
| 34 | TYTMAT1034 | Modeling and simulation of renewable energy systems | DETAILS |
| 35 | TYTMAT1035 | Predictive modeling for traffic prediction | DETAILS |
| 36 | TYTMAT1036 | Control system design for robotics | DETAILS |
| 37 | TYTMAT1037 | Modeling and simulation of power electronics systems | DETAILS |
| 38 | TYTMAT1038 | Modeling and simulation of renewable energy storage systems | DETAILS |
| 39 | TYTMAT1039 | Modeling and simulation of water treatment processes | DETAILS |
| 40 | TYTMAT1040 | Modeling and simulation of food processing operations | DETAILS |
| 41 | TYTMAT1041 | Modeling and simulation of pharmaceutical manufacturing processes | DETAILS |
| 42 | TYTMAT1042 | Modeling and simulation of transportation systems | DETAILS |
| 43 | TYTMAT1043 | Modeling and simulation of electric power transmission and distribution systems | DETAILS |
| 44 | TYTMAT1044 | Modeling and simulation of oil and gas production processes | DETAILS |
| 45 | TYTMAT1045 | Modeling and simulation of aircraft systems | DETAILS |
| 46 | TYTMAT1046 | Modeling and simulation of wind energy systems | DETAILS |
| 47 | TYTMAT1047 | Modeling and simulation of solar energy systems | DETAILS |
| 48 | TYTMAT1048 | Modeling and simulation of building energy systems | DETAILS |
| 49 | TYTMAT1049 | Modeling and simulation of agricultural systems | DETAILS |
| 50 | TYTMAT1050 | Modeling and simulation of renewable energy microgrids | DETAILS |
| 51 | TYTMAT1051 | Modeling and simulation of energy storage systems | DETAILS |
| 52 | TYTMAT1052 | Modeling and simulation of chemical reaction systems | DETAILS |
| 53 | TYTMAT1053 | Modeling and simulation of water distribution systems | DETAILS |
| 54 | TYTMAT1054 | Modeling and simulation of wastewater treatment processes | DETAILS |
| 55 | TYTMAT1055 | Modeling and simulation of air pollution control systems | DETAILS |
| 56 | TYTMAT1056 | Modeling and simulation of noise control systems | DETAILS |
| 57 | TYTMAT1057 | Modeling and simulation of power electronics for renewable energy systems | DETAILS |
| 58 | TYTMAT1058 | Modeling and simulation of energy-efficient building design | DETAILS |
| 59 | TYTMAT1059 | Modeling and simulation of energy management systems | DETAILS |
| 60 | TYTMAT1060 | Modeling and simulation of energy market systems | DETAILS |
| 61 | TYTMAT1061 | Modeling and simulation of offshore wind energy systems | DETAILS |
| 62 | TYTMAT1062 | Modeling and simulation of wave energy systems | DETAILS |
| 63 | TYTMAT1063 | Modeling and simulation of geothermal energy systems | DETAILS |
| 64 | TYTMAT1064 | Modeling and simulation of energy efficiency in transportation systems | DETAILS |
| 65 | TYTMAT1065 | Modeling and simulation of energy efficiency in manufacturing processes | DETAILS |
| 66 | TYTMAT1066 | Modeling and simulation of energy efficiency in buildings | DETAILS |
| 67 | TYTMAT1067 | Modeling and simulation of energy efficiency in agriculture | DETAILS |
| 68 | TYTMAT1068 | Modeling and simulation of energy efficiency in water treatment and distribution systems | DETAILS |
| 69 | TYTMAT1069 | Modeling and simulation of energy efficiency in wastewater treatment processes | DETAILS |
| 70 | TYTMAT1070 | Modeling and simulation of energy efficiency in air pollution control systems | DETAILS |
| 71 | TYTMAT1071 | Modeling and simulation of energy efficiency in noise control systems | DETAILS |
| 72 | TYTMAT1072 | Modeling and simulation of energy efficiency in chemical processes | DETAILS |
| 73 | TYTMAT1073 | Modeling and simulation of energy efficiency in oil and gas production processes | DETAILS |
| 74 | TYTMAT1074 | Modeling and simulation of energy efficiency in pharmaceutical manufacturing processes | DETAILS |
| 75 | TYTMAT1075 | Modeling and simulation of energy efficiency in food processing operations | DETAILS |
| 76 | TYTMAT1076 | Modeling and simulation of energy efficiency in transportation systems | DETAILS |
| 77 | TYTMAT1077 | Modeling and simulation of energy efficiency in electric power transmission and distribution systems | DETAILS |
| 78 | TYTMAT1078 | Modeling and simulation of energy efficiency in aircraft systems | DETAILS |
| 79 | TYTMAT1079 | Modeling and simulation of energy efficiency in renewable energy microgrids | DETAILS |
| 80 | TYTMAT1080 | Modeling and simulation of energy efficiency in energy management systems | DETAILS |
| 81 | TYTMAT1081 | Modeling and simulation of energy efficiency in energy market systems | DETAILS |
| 82 | TYTMAT1082 | Modeling and simulation of energy efficiency in power electronics systems | DETAILS |
| 83 | TYTMAT1083 | Modeling and simulation of energy efficiency in renewable energy storage systems | DETAILS |
| 84 | TYTMAT1084 | Modeling and simulation of energy efficiency in renewable energy systems | DETAILS |
| 85 | TYTMAT1085 | Modeling and simulation of energy efficiency in building energy systems | DETAILS |
| 86 | TYTMAT1086 | Modeling and simulation of energy efficiency in agricultural systems | DETAILS |
| 87 | TYTMAT1087 | Modeling and simulation of energy efficiency in wind energy systems | DETAILS |
| 88 | TYTMAT1088 | Modeling and simulation of energy efficiency in solar energy systems | DETAILS |
| 89 | TYTMAT1089 | Modeling and simulation of energy efficiency in wave energy systems | DETAILS |
| 90 | TYTMAT1090 | Modeling and simulation of energy efficiency in offshore wind energy systems | DETAILS |
| 91 | TYTMAT1091 | Modeling and simulation of energy efficiency in geothermal energy systems | DETAILS |
| 92 | TYTMAT1092 | Modeling and simulation of energy efficiency in power systems | DETAILS |
| 93 | TYTMAT1093 | Modeling and simulation of energy efficiency in chemical reaction systems | DETAILS |
| 94 | TYTMAT1094 | Modeling and simulation of energy efficiency in industrial machinery | DETAILS |
| 95 | TYTMAT1095 | Modeling and simulation of energy efficiency in autonomous vehicles | DETAILS |
| 96 | TYTMAT1096 | Modeling and simulation of energy efficiency in robotics | DETAILS |
| 97 | TYTMAT1097 | Modeling and simulation of energy efficiency in wireless communication systems | DETAILS |
| 98 | TYTMAT1098 | Modeling and simulation of energy efficiency in brain-computer interfaces | DETAILS |
| 99 | TYTMAT1099 | Modeling and simulation of energy efficiency in natural language processing systems | DETAILS |
| 100 | TYTMAT1100 | Modeling and simulation of energy efficiency in speech recognition and synthesis systems | DETAILS |
| 101 | TYTMAT1101 | Modeling and simulation of energy efficiency in medical image analysis systems | DETAILS |
| 102 | TYTMAT1102 | Modeling and simulation of energy efficiency in traffic sign recognition systems | DETAILS |
| 103 | TYTMAT1103 | Modeling and simulation of energy efficiency in handwritten character recognition systems | DETAILS |
| 104 | TYTMAT1104 | Modeling and simulation of energy efficiency in automatic license plate recognition systems | DETAILS |
| 105 | TYTMAT1105 | Modeling and simulation of energy efficiency in facial recognition systems | DETAILS |
| 106 | TYTMAT1106 | Modeling and simulation of energy efficiency in predictive maintenance systems | DETAILS |
| 107 | TYTMAT1107 | Modeling and simulation of energy efficiency in stock price forecasting systems | DETAILS |
| 108 | TYTMAT1108 | Modeling and simulation of energy efficiency in weather forecasting systems | DETAILS |
| 109 | TYTMAT1109 | Modeling and simulation of energy efficiency in energy demand forecasting systems | DETAILS |
| 110 | TYTMAT1110 | Modeling and simulation of energy efficiency in supply chain optimization systems | DETAILS |
| 111 | TYTMAT1111 | Modeling and simulation of energy efficiency in water treatment processes | DETAILS |
| 112 | TYTMAT1112 | Modeling and simulation of energy efficiency in renewable energy microgrids | DETAILS |
| 113 | TYTMAT1113 | Modeling and simulation of energy efficiency in renewable energy storage systems | DETAILS |
| 114 | TYTMAT1114 | Modeling and simulation of energy efficiency in renewable energy systems | DETAILS |
| 115 | TYTMAT1115 | Modeling and simulation of energy efficiency in building energy systems | DETAILS |
| 116 | TYTMAT1116 | Modeling and simulation of energy efficiency in agricultural systems | DETAILS |
| 117 | TYTMAT1117 | Modeling and simulation of energy efficiency in wind energy systems | DETAILS |
| 118 | TYTMAT1118 | Modeling and simulation of energy efficiency in solar energy systems | DETAILS |
| 119 | TYTMAT1119 | Modeling and simulation of energy efficiency in wave energy systems | DETAILS |
| 120 | TYTMAT1120 | Modeling and simulation of energy efficiency in offshore wind energy systems | DETAILS |
| 121 | TYTMAT1121 | Modeling and simulation of energy efficiency in geothermal energy systems | DETAILS |
| 122 | TYTMAT1122 | Modeling and simulation of energy efficiency in power systems | DETAILS |
| 123 | TYTMAT1123 | Modeling and simulation of energy efficiency in chemical reaction systems | DETAILS |
| 124 | TYTMAT1124 | Modeling and simulation of energy efficiency in industrial machinery | DETAILS |
| 125 | TYTMAT1125 | Modeling and simulation of energy efficiency in autonomous vehicles | DETAILS |
| 126 | TYTMAT1126 | Modeling and simulation of energy efficiency in robotics | DETAILS |
| 127 | TYTMAT1127 | Modeling and simulation of energy efficiency in wireless communication systems | DETAILS |
| 128 | TYTMAT1128 | Modeling and simulation of energy efficiency in brain-computer interfaces | DETAILS |
| 129 | TYTMAT1129 | Modeling and simulation of energy efficiency in natural language processing systems | DETAILS |
| 130 | TYTMAT1130 | Modeling and simulation of energy efficiency in speech recognition and synthesis systems | DETAILS |
| 131 | TYTMAT1131 | Modeling and simulation of energy efficiency in medical image analysis systems | DETAILS |
| 132 | TYTMAT1132 | Modeling and simulation of energy efficiency in traffic sign recognition systems | DETAILS |
| 133 | TYTMAT1133 | Modeling and simulation of energy efficiency in handwritten character recognition systems | DETAILS |
| 134 | TYTMAT1134 | Modeling and simulation of energy efficiency in automatic license plate recognition systems | DETAILS |
| 135 | TYTMAT1135 | Modeling and simulation of energy efficiency in facial recognition systems | DETAILS |
| 136 | TYTMAT1136 | Modeling and simulation of energy efficiency in predictive maintenance systems | DETAILS |
| 137 | TYTMAT1137 | Modeling and simulation of energy efficiency in stock price forecasting systems | DETAILS |
| 138 | TYTMAT1138 | Modeling and simulation of energy efficiency in weather forecasting systems | DETAILS |
| 139 | TYTMAT1139 | Modeling and simulation of energy efficiency in energy demand forecasting systems | DETAILS |
| 140 | TYTMAT1140 | Modeling and simulation of energy efficiency in supply chain optimization systems | DETAILS |
| 141 | TYTMAT1141 | Modeling and simulation of energy efficiency in water treatment processes | DETAILS |
| 142 | TYTMAT1142 | Modeling and simulation of energy efficiency in renewable energy microgrids | DETAILS |
| 143 | TYTMAT1143 | Modeling and simulation of energy efficiency in renewable energy storage systems | DETAILS |
| 144 | TYTMAT1144 | Modeling and simulation of energy efficiency in renewable energy systems | DETAILS |
| 145 | TYTMAT1145 | Modeling and simulation of energy efficiency in building energy systems | DETAILS |
| 146 | TYTMAT1146 | Modeling and simulation of energy efficiency in agricultural systems | DETAILS |
| 147 | TYTMAT1147 | Modeling and simulation of energy efficiency in wind energy systems | DETAILS |
| 148 | TYTMAT1148 | Modeling and simulation of energy efficiency in solar energy systems | DETAILS |
| 149 | TYTMAT1149 | Modeling and simulation of energy efficiency in wave energy systems | DETAILS |
| 150 | TYTMAT1150 | Modeling and simulation of energy efficiency in offshore wind energy systems | DETAILS |
| 151 | TYTMAT1151 | Modeling and simulation of energy efficiency in geothermal energy systems | DETAILS |
| 152 | TYTMAT1152 | Modeling and simulation of energy efficiency in power systems | DETAILS |
| 153 | TYTMAT1153 | Modeling and simulation of energy efficiency in chemical reaction systems | DETAILS |
| 154 | TYTMAT1154 | Modeling and simulation of energy efficiency in industrial machinery | DETAILS |
| 155 | TYTMAT1155 | Modeling and simulation of energy efficiency in autonomous vehicles | DETAILS |
| 156 | TYTMAT1156 | Modeling and simulation of energy efficiency in robotics | DETAILS |
| 157 | TYTMAT1157 | Modeling and simulation of energy efficiency in wireless communication systems | DETAILS |
| 158 | TYTMAT1158 | Modeling and simulation of energy efficiency in brain-computer interfaces | DETAILS |
| 159 | TYTMAT1159 | Modeling and simulation of energy efficiency in natural language processing systems | DETAILS |
| 160 | TYTMAT1160 | Modeling and simulation of energy efficiency in speech recognition and synthesis systems | DETAILS |
Your ideas are implemented into reality. At each and every stage of the project development get the complete assistant from our technical developers. Also students who are looking to write and publish their paper in International Journal, we will help them to publish their paper/thesis.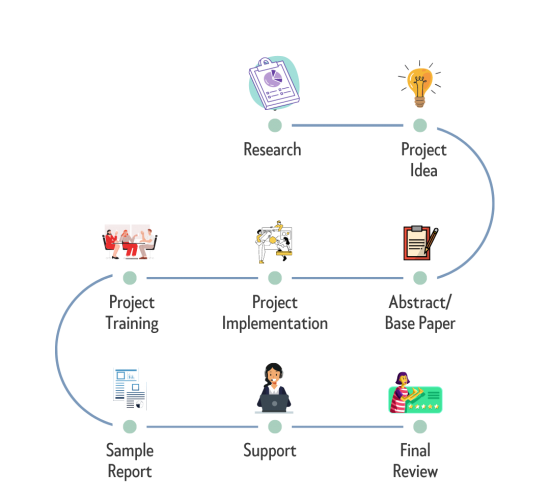 Searching for interesting projects? Would you like to Implement your ideas into project? Then you're at the right place. We provide all the mini and major project support related to Matlab. TechieYan is highly recommended to get your project work done. Matlab projects in Hyderabad. We have an experienced technical team who will support you throughout the process. We will be training you on the project development from scratch.
Any unique ideas can be implemented under our guidance. Also the report and paper publications service is provided. We have delivered more than 500+ Matlab projects and the results were highly satisfactory. Diploma /Btech /BE /Mtech /ME /MS students can get complete project support along with the project training certification.